Here in our "Sp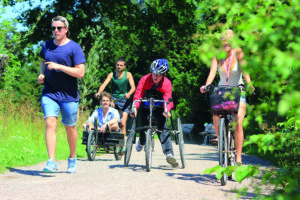 orts & Health"-section. You can read about how By CONNIEHANSENS ApS all-ability equipment can help you to pursue a healthier, more active life.
In "RaceRunning for sports" you can read about the exhilarating sport of RaceRunning, and get input on how to get started with the sport.
In "Health & Rehab" you can read about the many health benefits of using our all-ability runners and walkers.
In "Meet our users" you can read about how our products makes a difference for people with mobility impairments. In the words of our users.